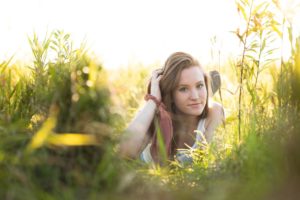 Georgia is in her senior year at Shorewood High School in Milwaukee, Wisconsin. She was looking to get her high school senior portraits done and wanted something unique for her final year of school.
Right from the beginning, I was excited to work with Georgia. Five seconds into our first meeting, she told me that she loves Montana and was thinking about attending the University of Montana, my alma mater, in Missoula.
You don't meet that many people in Milwaukee or Wisconsin who have even driven through Montana, let alone lived there or planned to move there. But Georgia loved the outdoors, and she loved the mountains. She and her mom had taken many road trips to national parks, and that's when she fell in love with my home state. It's a sentiment I echo.
I also loved Georgia's style. Her look was bohemian and nature-based. It took all those rustic aspects of the outdoors and balanced it with the excitement of the city. With that balance of style, I wanted to bring some inside elements into the outdoors. So, I brought a vintage chair and placed it in a field as a centerpiece to the portraits. As a bonus, the chair matched her long, red hair.
We decided upon a more rustic and wild location with Lapham Peak near Delafield, Wisconsin. The park has wild woods with dense trees and high vegetation on one side. And, it has picturesque soft fields of grass on the other. The site was the perfect combination for her photos. My favorite photos from the photoshoot were of Georgia laying in the tall grass, playing with her hair. It ended up being a very whimsical, warm and sunny image that resulted in showing off Georgia's relaxed and confident personality.
Doubling down on the relaxed nature of Georgia, we had her sprawl out on the grass with her feet up in the air, resting against the only tree in the field. I love trying something new, especially when a senior high school student isn't afraid of lying down in a field. Georgia's feet started to fall asleep after a couple minutes, but there was enough laughter to shoot a couple of good fun-filled photos.
Georgia and her mom looked forward to the photo shoot so much that they decided to upgrade their senior portrait package to a two-day experience. So, a week later, we met in the Third Ward to take more photos with a new outfit and city location.
What's the benefit of this package?
On the first day, we were able to stay long enough at Lapham Peak to get some gorgeous sunset photos. On the second day, we were able to capture perfect lighting for the photos in the Third Ward. If you tried to do both of these in one half-day session, you'd have to sacrifice the light in either of the locations.